Camper Photos | Camper Emails | Camp Updates
Stay Connected with the Deer Run App
We have partnered with a company called Bunk1 to provide communication with your camper and an easy way to see photos and receive updates from camp, all in one place! Your login is your Deer Run account email and password.
Using the Deer Run app (or on desktop go to Bunk1.com):
Send an email to your overnight camper with Bunk Notes. We will print these daily and give to campers at "Mail Call."
Upload a profile photo of your camper. Our facial recognition will scan all the uploaded photos and notify you about photos of your camper.
Save Favorite Photos for easy access to pictures of your camper all year-round.
Share Photos to social media or email a photo to family.
Customize Unique Photo Gifts such as photo books, mugs, calendars, phone cases and more.
Order high resolution digital downloads or prints.
For info on how to setup your Bunk1 account call Bunk 1 at (212) 974-9112 or email support@bunk1.com
For FAQ's related to services visit Bunk1family.com/faqs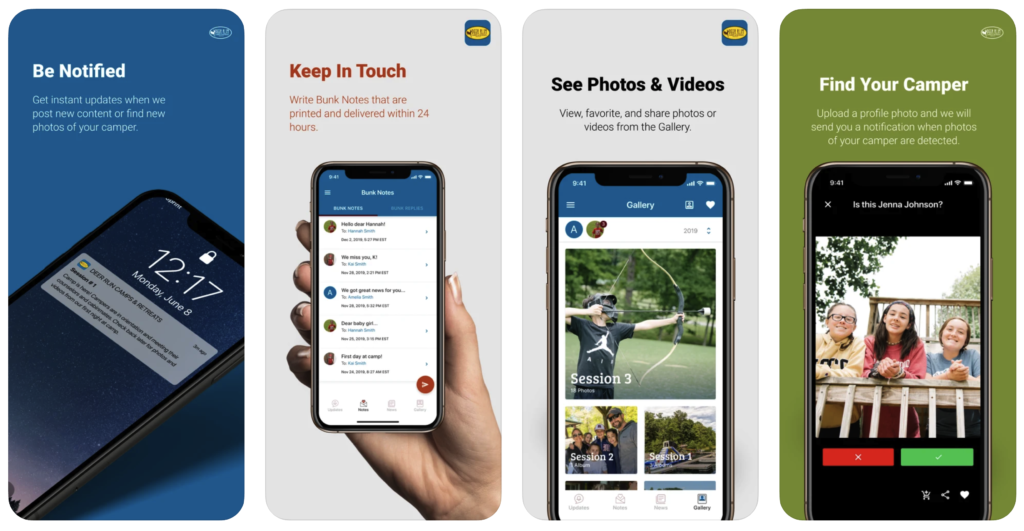 UPDATES
Stay up to date with everything going on at camp. Get instant updates when a photo of your camper is uploaded or when new posts are made.
BUNK NOTES
Bunk Notes are the fastest and easiest way to deliver camper mail. Send your camper letters, customized with photos, borders, puzzles, and more from the Family Portal. These letters are printed at camp and delivered to campers along with the traditional mail.
PHOTO GALLERIES
Bunk1 offers a secure photo gallery. Only family members of current campers are granted access to view and purchase high resolution digital downloads, prints, or photo products such as coffee mugs, t-shirts, coasters, and more.
FACIAL RECOGNITION
With Bunk1's facial recognition software, parents can be automatically notified when photos of their children are uploaded. With every photo tagged, the software gets better at identifying the child in it.