The Story of Deer Run Camps & Retreats
Located in Thompson's Station, TN
Deer Run Camps & Retreats was founded in 1998 by David and Liz Gibson. After 15 years of marriage — while in their mid-30s — they believed God was calling them to do something more significant with their life. Two years of prayer confirmed that He wanted them to start a retreat center and summer camp ministry. David walked the property on a Sunday morning in June 1996, and God gave him a clear vision about His plan for the property — land sitting dormant for more than 15 years.
When God gave David the vision to start Deer Run Camps & Retreats 25 years ago, he and Liz, along with their three daughters, committed to follow Him with everything they had. With nothing but faith they stepped into their journey, unsure if they could accomplish their calling. About three years into the journey, when it felt like nothing was happening, David prayed hard. David relates the story well: "I was praying and asking God to send money so I could build this camp! Suddenly, He spoke to me very clearly and said, 'What are you doing with what you have?' I responded by telling Him, 'We will do the best we can with what You have already given us, and then trust You for every need.' "
Since that time, God has blessed their efforts and provided for everything He's led them to do. Just 40 miles south of Nashville, Tennessee, Deer Run Camps & Retreats is a God-inspired, nondenominational camp and retreat center lying on 150 scenic acres of rolling Tennessee forest land. Over the years, Deer Run has made continuous facility and program improvements through the faithfulness of its leadership, staff, volunteers, donors, and board members.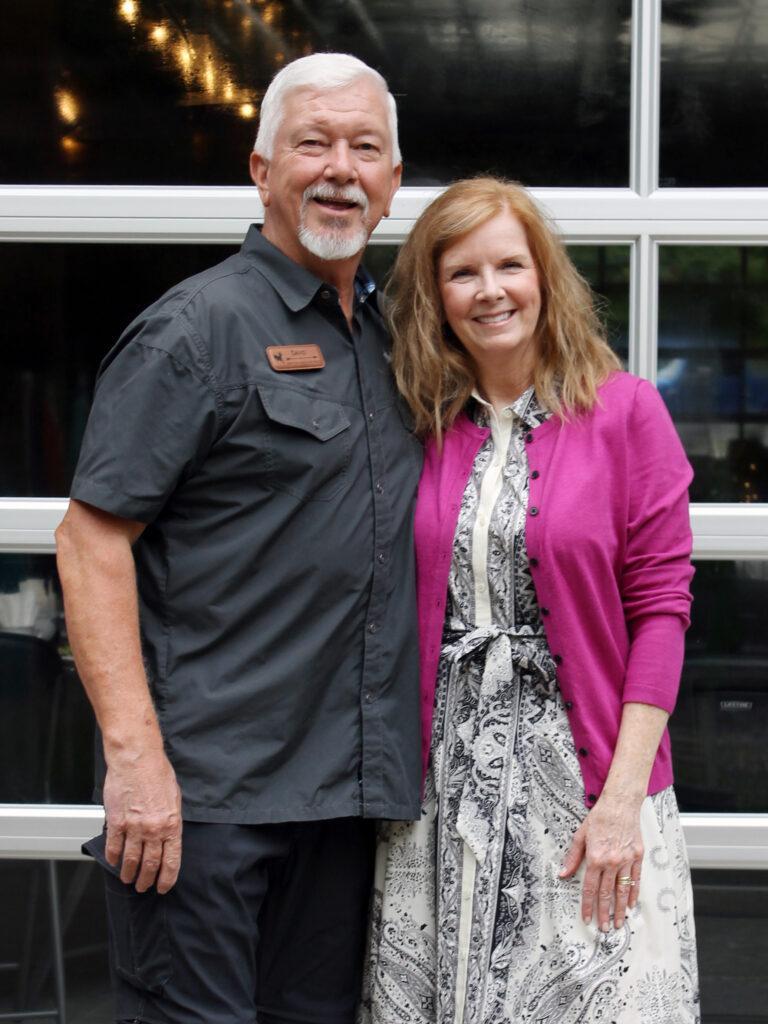 Deer Run Camps & Retreats Founders
David & Liz Gibson
1996

In June, David received a clear vision from God to purchase a specific piece of property in Williamson County, Tennessee for a camp. In a step of faith, David and Liz sold their home, bought the property, and began steps to prepare for ministry through meetings with the county environmental department and utility district.

1997–1998

In December 1997, ten friends gathered in prayer to determine the ministry name, create a mission, and establish a plan for facilities and funding. The following month, in January 1998, Deer Run Retreat Center (dba Deer Run Camps & Retreats) was formed as a 501(c)(3) nonprofit ministry with a volunteer board of directors. Deer Run Camps & Retreats aimed to provide a place for campers, their families, and the faith community to be immersed in God's beautiful creation and strengthen their relationships with each other and Christ.

The first donation of $10,000 was given as seed money and volunteer teams began clearing the property.

1999–2000

With rustic platform tents as lodging and nothing but campfires, cookouts, and a game field available, Deer Run Camps & Retreats hosted its first overnight retreat for a local middle school church group in 1999. Shortly after, in 2000, several local church groups had day retreats at Deer Run.

Improvements were made to the entrance road and road frontage. Sites for a pavilion and a maintenance building were cleared. Also added were a volleyball court and hiking/mountain bike trails.

2001–2003

In 2001-02, the first phase of a low ropes challenge course was built and used by a local church to prepare for their upcoming Guatemala mission trip. Deer Run Camps & Retreats also hosted a programmed men's retreat and a married couples' weekend, built seven platform tents, and added a footbridge over the creek to the tent area.

In 2003, underground electricity was installed to the camp area and pavilions and a public water line was put on Perkins Road.

2004–2005

Word of mouth spread and in 2004, Deer Run Camps & Retreats hosted over 35 retreat groups and three weeklong overnight camp church youth groups in the Valley.

A pavilion and sand beach were added to Spring Valley Lake and a high ropes challenge course was completed. Construction began on The Creekside Meeting & Dining Facility.

2006

In 2006, Deer Run Camps & Retreats opened The Lodge, a premiere 7,000 square foot facility designed for retreats and family events. This expansion provided new ministry opportunities including marriage, family, and leadership retreats. With the addition of the new facility, Deer Run impacted almost 6,000 people that year – more than in the past six years combined! Deer Run's first annual Father-Son Adventure Weekend also had a successful start.

Marketing was expanded by launching a website and radio ads on a local Christian station.

Deer Run Camps & Retreats hired their first three employees: a marketing director, reservations person, and director of camps and recreation.

2007–2008

In 2007, ten years after being founded and after numerous hurdles and financial struggles, Deer Run Camps & Retreats had adequate staff and facilities to start summer camp. 48 campers came that first year.

Deer Run also celebrated approval on a site plan and building an onsite sewage treatment system.

The following year, Deer Run Camps & Retreats initiated the MISSION 42:1 Scholarship Program to benefit underprivileged children and their families. The commencement of this program was consistent with Deer Run Founder and CEO David Gibson's belief that children should never be turned away from camp due to the inability to pay. Since its inception, Deer Run Camps & Retreats has awarded over 2,200 scholarships to campers and families including its community partnerships with Against the Grain, Angel Tree, Boys and Girls Clubs, Franktown Open Hearts, Greenhouse Ministries, Nashville Rescue Mission, Safe Haven Family Shelter, and Tennessee Kids Belong.

2009–2019

Over the next 11 years, the number of campers attending Summer Day and Overnight Camps at Deer Run Camps & Retreats grew from 135 (2008) over 3,100 children and youth (2019). Campers and counselors spoke passionately about the deep relationships they formed with Jesus after their time at Deer Run, confirming David's vision. During those 11 years of camp, a total of 824 campers accepted Christ as their Savior.

By 2019, the number of retreat groups per year grew to over 250, representing more than 11,000 retreat guests annually.

(photo: 2010 Lipscomb University Team Building) 

2020

As a ministry that exists to bring people together, Deer Run Camps & Retreats was devastated by the COVID-19 pandemic.  In May 2020, the decision was made to cancel the first four weeks of camp. Soon thereafter, with the support of the Board of Directors, the decision was made to cancel camps for the entire summer.

With fewer staff and less incoming funds for operations, it was time to get creative with ways to serve the community. Numerous opportunities were created to strengthen individual families by providing a place to retreat together during the pandemic. New programs were developed such as Family & Friend Adventures, Day Passes, Parents' Night Out, and Winter & Spring Day Camps.

In a way that only God could have directed, Deer Run Camps & Retreats closed on the purchase of a neighboring farm without taking on any debt. This acquisition added an additional 57 acres, event barn, outdoor amphitheater with covered stage, cabin, lake, and a 3,000 square foot house that is the future home of Valley View Lodge.

2021

Deer Run's 14th summer camp season was a record year for the number of kids and youth (ages 5 to 17) who attended day and overnight camps and who accepted Christ as their Savior!

3,467 Campers enjoyed the adventures and built lasting friendships in the wooded retreat, fondly known as "The Valley."

213 Campers made a first-time profession of faith in Jesus Christ.

93 Campers celebrated baptism in Spring Valley Lake at Deer Run.

26 Campers recommitted their life to Christ.