to the Ministry of Deer Run
We Love Our Volunteers!
Are you interested in donating your gifts, time, and passions to care for our property, build and repair facilities, serve our guests and campers, and be involved in community or family events?
Then, we would love for you and your family, friends, community group, or co-workers to be a part of the Deer Run family by volunteering alongside our team members!
Whether you love being behind the scenes or connecting with people as a frontline volunteer, we have numerous year-round volunteer opportunities for you! You can volunteer for a couple hours, a day, a week, or more.
"Each one should use whatever gift he has received to serve others, faithfully administering God's grace in its various forms." 1 Peter 4:10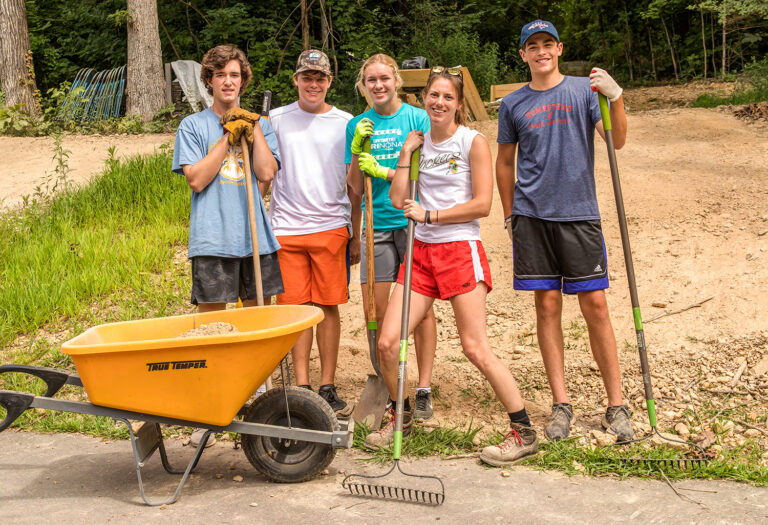 Join Us for 2022 Volunteer Spring Serve Day!
Saturday, April 23, 2022 •
8:00 a.m.–4:00 p.m.
This annual post-winter volunteer work day is vital to cleaning up debris from winds so the property looks gorgeous for retreat groups and summer camps! We have numerous projects: removing fallen trees on the property, repairing trails, spreading pine straw/wood chips, lining trails with deadfall, and leveling uneven paths.
Bring work gloves and wear shoes that can get dirty.
Volunteers must be age 8 and up. Youth ages 8 to 18 must be supervised by an adult volunteer; 1 adult for every 6 youth.
Schedule: Serve the full day or a half day (a.m. or p.m.)
Full Day — 8:00am to 4:00pm
Morning — 8:00am to 11:30am
Lunch provided for everyone — 11:30am to 12:30pm
Afternoon — 12:30pm to 4:00pm 
Summer Camp Volunteers
Summer Camp Volunteers
MATURE CHRISTIAN TEENS, AGE 14 OR OLDER, OR ADULTS WHO WANT TO SERVE IN THIS SUPPORT ROLE
Serve alongside the camp staff to help with Day Camp ministry — campers who are age 5 through completed grade 6.
We invite you to join us during June and July in this important ministry role as a VolunDeer (our summer camp volunteers). You can serve for a few days, a week, or more!
IMPORTANT: CREATING A CAMP VOLUNDEER (VOLUNTEER) ACCOUNT
**IMPORTANT: If your family already has a Deer Run account, ask your parent to do the following so you will have a separate login as a VolunDeer.
Log into your Deer Run account.
From the dashboard, click on the box that says "My Profile."
Click on the box that says "Manage _____ Family."
Click on the name of the person who is applying as a Camp VolunDeer. You can also Add a Member to your family at the bottom of the list.
Add an email address to the Camp VolunDeer's account. Then, log out of your account.
Go back to the Camp VolunDeer application link. Now you can log in as the Camp VolunDeer.
You will need to click "Forgot Password" and follow the prompts to set a new password and then continue the application.
Email VolunDeer@DeerRun.camp or call (615) 550-9664 if you have questions.
RETURNING VOLUNDEERS If you have served as a VolunDeer before, you MUST fill out an application each year so we have updated information from you.
QUESTIONS? A lot of your questions will be answered below.
However if you don't see the answer to what you'd like to know, just contact Emily Nash at (615) 550-9663 or email VolunDeer@DeerRun.camp.
Summer Camp Volunteer Nurses
Year Round Volunteer Opportunities